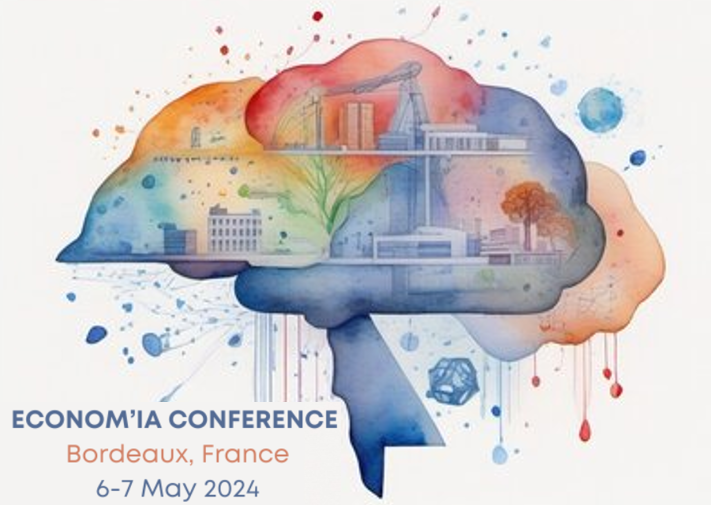 Credit: Source : Stable Diffusion Online, Text to image Artificial Intelligence
1st Edition of Econom'IA Conference

Viewed 71 times
We are proud to announce the first Econom'IA conference that will take place in BSE (Bordeaux School of Economics), Bordeaux, France, on May 6-7, 2024.
This conference aims to explore and foster the cutting-edge applications of Artificial Intelligence (AI), Text Mining, Web Mining, Data Visualization, and other innovative techniques in all the fields of Economics. Econom'IA brings together researchers from the academic world as well as entrepreneurs who use innovative techniques to analyze economic data.
For this first edition, we are particularly honored to have Renaud Aioutz-Lefebvre (OpenStudio) on May 6th and Emmanuel Flachaire (AMSE, Aix-Marseille University) on May 7th as our keynote speakers.
Econom'IA conference will particularly focus on the following topics:
Machine Learning and Deep Learning applications,
Text and Web Mining,
Advanced data collection and visualization.
How to submit:
If you are interested in submitting a proposal, please log in to the website Sciencesconf.org to use the submission system. You will first have to create an account, or just log in if you already have one.
In section MY SPACE/My submissions you can start the submission process.
The deadline for submissions is 15 January, 2024
Author Guidelines & Important dates:
Authors willing to attend the conference can apply by submitting an application in one single pdf document in English including a research proposal (2-4 pages maximum) or a published paper to present during the presentation sessions. Submissions must include at least one application of innovative techniques in Economics and will undergo a peer-review process.
It is also possible to attend the conference as an auditor after filling out the form on the conference website. A confirmation will be sent to you via email.
Deadline for application: 15 January, 2024
Notification of acceptance: 29 February, 2024
Registration reduced fee payment: from 1 March to 20 March 2024
Registration full fee payment: from 20 March to 17 April, 2024
Participation fees (participants and auditors):
The participation fees are :
150 Euros for registrations before 20th March 2024
250 Euros from 20th March to 17 April 2024.
Fees include registration to the conference (access to the conference lectures and presentations), breaks, lunches, and gala dinner.
3 free registrations are reserved for participants from third countries or scholarship holders. For more details please contact the organizing committee.
---